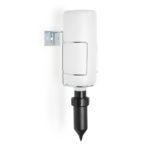 Refillable bottle, 1L
REDUCE WASTE. REFILL. REUSE.
Choose the Refillable Bottle to actively contribute towards waste reduction and sustainability. This versatile bottle accommodates liquid food products and chemical solutions, making it ideal for a range of applications. Its mounted and inverted position optimizes space efficiency, while the gravity-fed system ensures efficient evacuation and high yield, minimizing product waste. Crafted from high-quality food-grade materials, the bottle and storage cap are built with stringent quality standards to last and maintain sanitation standards.
Pair-Up for a Complete Dispensing System
Enhance your dispensing setup by combining one of our pumps and a wall bracket or hanger for easy dispensing of condiments, sauces and liquid soap. It's a seamless solution that boosts productivity and convenience while reducing single-use plastics.
Features & Benefits
Specifications
Get in touch with ASEPT
Sales Contacts
Our team is here to help! Get in touch with our sales contacts, tailored to your
specific region, for expert support and guidance. Contact Us.
John Rayburn
Director of Business Development
john.rayburn (a) asept.com
Lotta Strömberg
lotta.stromberg (a) asept.com
Accessories
Complete your setup with these accessory options.
| Part # | Model | Description | Application | Material | Thread size |
| --- | --- | --- | --- | --- | --- |
| 60013 | UNRO-W28 | UNRO Pump, White | Food/Chem | TPE | 28mm |
| 60015 | UNRO-B28 | UNRO Pump, Black | Chem | TPE | 28mm |
| 715011 | 3MP-128 | 3MP Micro-Dose Pump, 1ml | Chem | – | 28mm |
| 715010 | 3MP-228 | 3MP Micro-Dose Pump, 2ml | Chem | – | 28mm |
| Part # | Description | Compatibility | Dimensions | | |
| 717202 | Wall Bracket, Stainless Steel | 3MP Pump | 2 3/8-in (6cm) | | |
| 717201 | Wall Bracket, Stainless Steel | 3MP Pump | 4-in (10cm) | | |
| 717206 | Wall Bracket, White Plastic | 3MP Pump | 4 3/4-in (12cm) | | |
| 717200 | Wall Bracket, Stainless Steel | 3MP Pump | 5 1/2-in (14cm) | | |
| 60023 | Wall Bracket, Stainless Steel | UNRO Pump | 6 x 4 3/4 x 3 1/3-in (15 x 12 x 8.5cm) | | |