MAKING A DIFFERENCE
WITH SUSTAINABLE SOLUTIONS
In today's world, it is imperative that businesses take responsibility for their environmental impact. Industries such as foodservice and personal care have a significant role to play, with single-use packaging being a major contributor to waste and pollution.
At ASEPT, we are committed to minimizing our impact on the environment
and striving toward a more sustainable future.
Single-Use Packaging
THE ENVIRONMENTAL IMPACT
OF SINGLE-USE PACKAGING
According to a report by the Ellen MacArthur Foundation, the global packaging industry produces approximately 311 million tons of plastic packaging each year, and this number is expected to increase. Furthermore, the report states that if current trends continue, there could be more plastic than fish in the ocean by 20501, much of which comes from food and beverage packaging. We recognize that it's our responsibility to reduce the amount of packaging material in the markets we serve.
1 World Economic Forum, Ellen MacArthur Foundation and McKinsey & Company,
The New Plastics Economy — Rethinking the future of plastics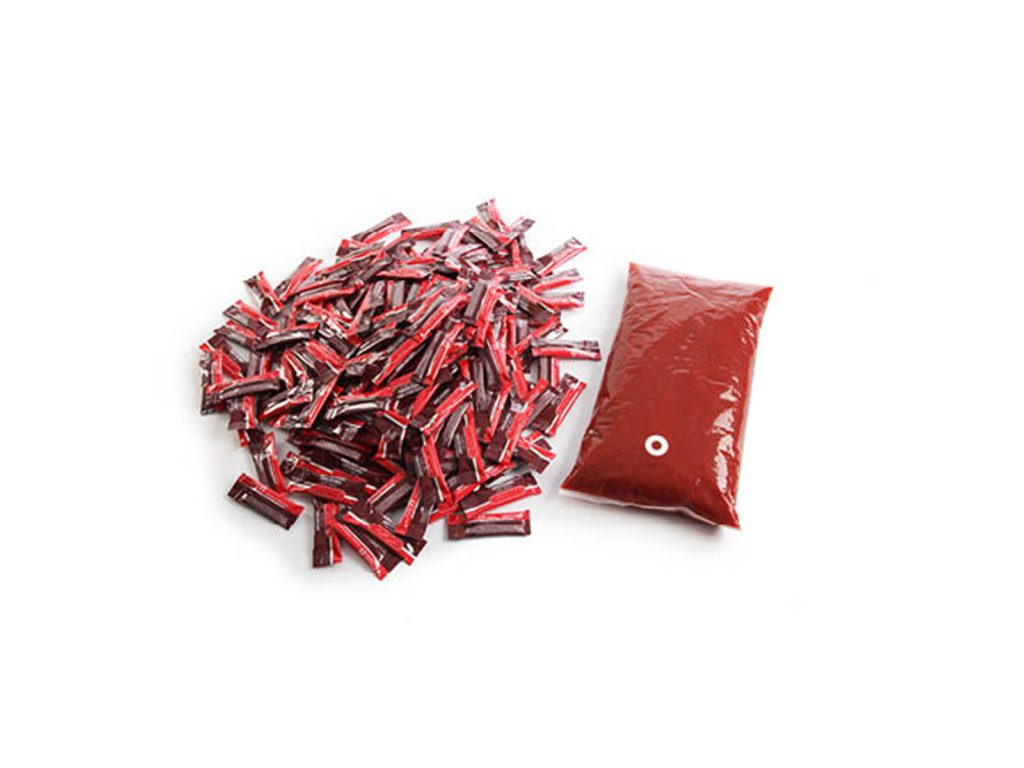 ASEPT Sealed Dispensing System
POUCHED DISPENSING SYSTEM
At ASEPT, we pioneered the air-free dispensing concept for bulk packaging of condiments and personal care products like shampoo to reduce reliance on single-use-portion packs. Our Pouched Dispensing System is a model of sustainability, with innovative designs that optimize product yield (up to 98%) and minimize material usage (by up to 91%).  
Sustainable Design
Designing Solutions for Sustainability
DESIGNED TO BE RECYCLED using mono-materials and material-code components for proper separation and recyclability. We continuously evaluate greener options like bioplastics to leave a smaller footprint.
LESS MATERIAL REQUIRED with carefully structured dispenser designs to maximize strength. Our dispensing solutions eliminate the packaging waste of single-use-portion packs and use large pouches of product to serve in a smarter way. 
LESS WASTE of food from production, processing and packaging to consumption. Achieving the highest yield possible is paramount to each of our dispensing solutions.
The Circular Economy
TURNING USED PLASTIC INTO NEW, SUSTAINABLE PRODUCTS
Recycling plastic reduces CO2 emissions and minimizes waste, and we're committed to contributing to the circular economy. However, even a quality item with a long lifecycle will eventually reach the end of its working life. When this happens, we believe that the materials in the dispenser should be recycled, as they are too valuable to simply become waste. By recycling the materials, through the industrial recycling process, the plastic can be re-used again to produce new dispensers, further reducing the environmental
footprint of our products. When recycling your dispenser, it's important to ensure that it's clean and free from food residues to facilitate the recycling process. Our dispensers are made from advanced high-value construction plastics and other polymer materials that are commonly used in automobiles, medical equipment, and electronic products. These materials are chosen because we believe that a dispenser from ASEPT should be a quality item with a long lifecycle.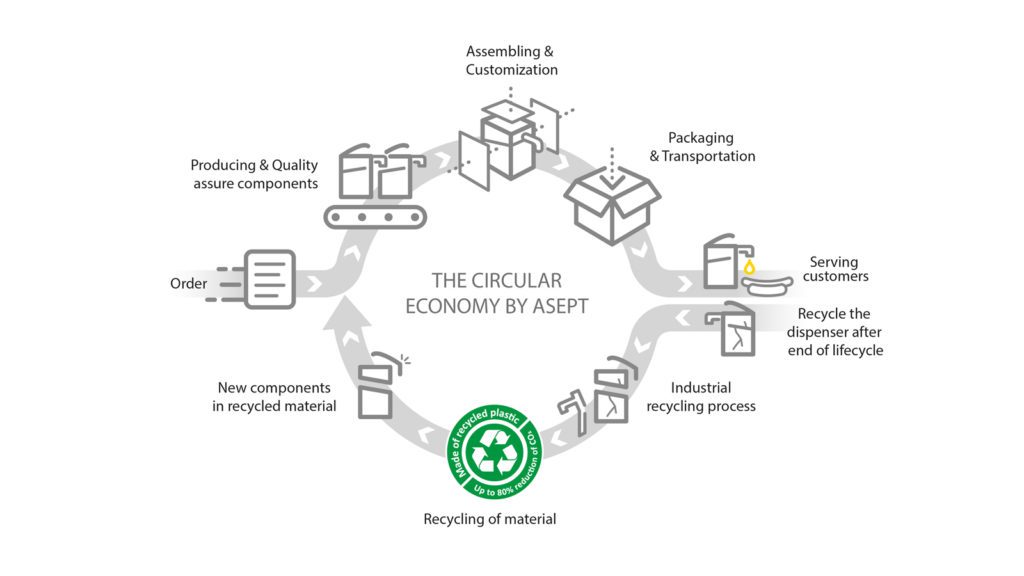 The Circular Economy by ASEPT
When material is sent to an industrial plant for mechanical recycling, it's shredded and melted into pellets. These recycled plastic pellets replace crude-oil-based virgin raw materials in the production of new, high-quality plastic products. Rest assured, all parts in food contact zones are made of virgin material to meet the highest food-safety standards.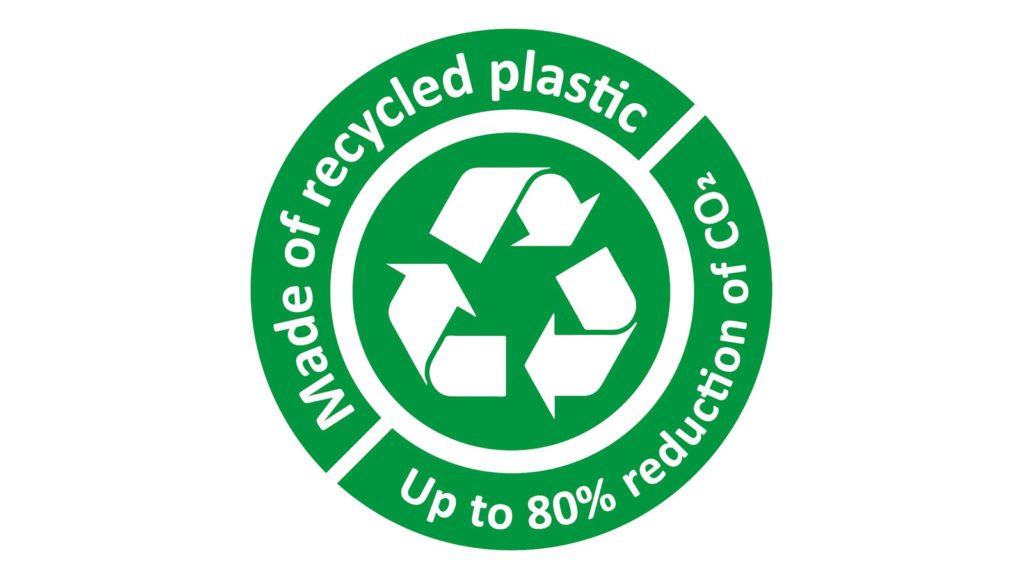 Up to 80% Reduction of CO2*
Recycling minimizes the greenhouse gas emissions caused by manufacturing plastic materials, through the whole chain from oil extraction to the manufacturing of virgin material.
*The reduction of CO2 is an estimated average.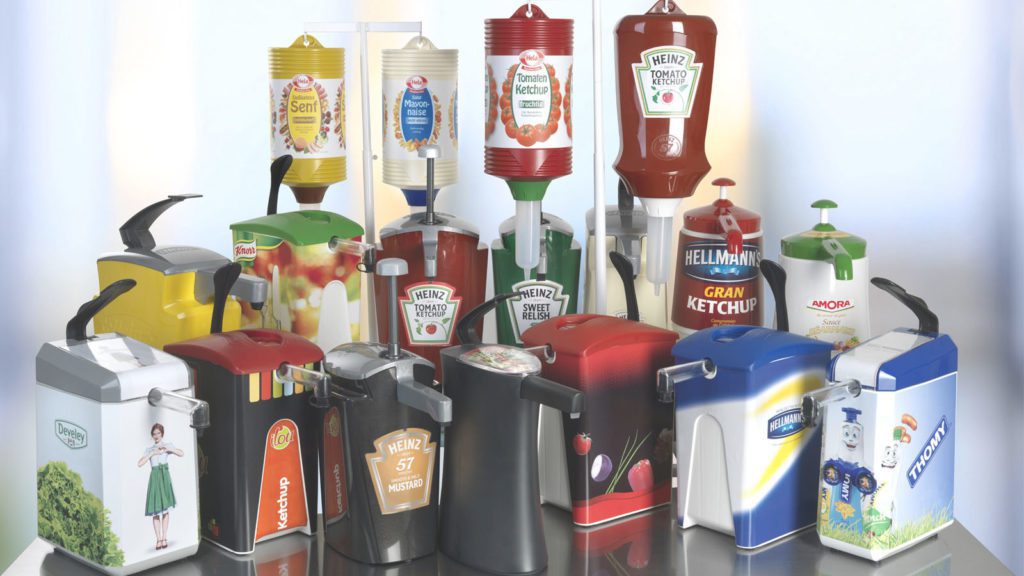 Custom Dispenser & Pump Solutions
We offer customized dispensing solutions that not only look great but also provide your customers with a sustainable and user-friendly experience. Our expert design team will collaborate with you to create a customized solution that matches your brand aesthetic with unique graphic applications and dispensing needs. Contact us today and upgrade your dispensed product packaging.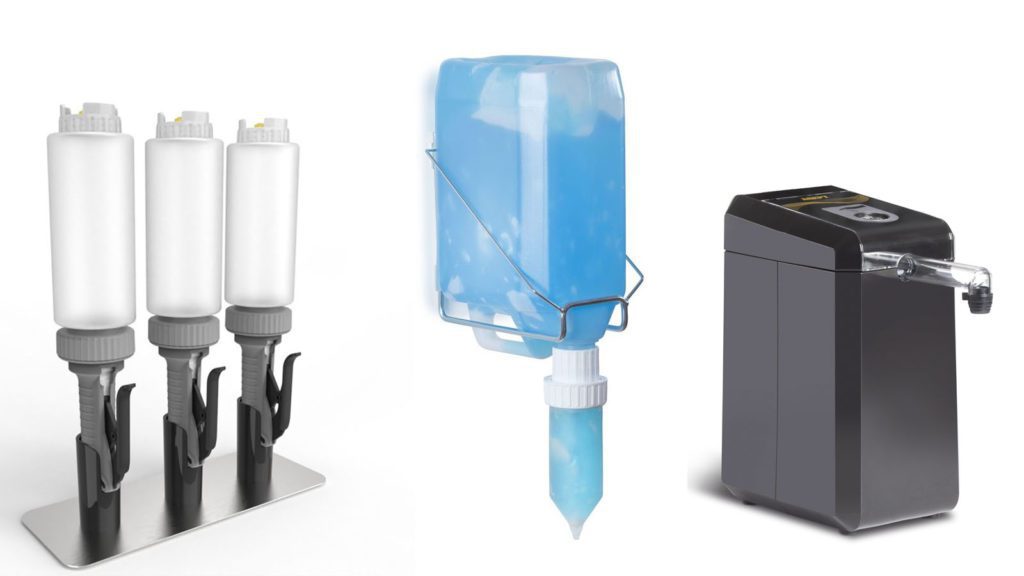 Standard Dispenser & Pump Solutions
Explore our variety of standard dispensers and pumps for safe, sustainable and efficient liquid portion control. From foodservice to personal care and cleaning industries, we offer dispensing solutions that safeguard product integrity, promote freshness and sanitation and reduce waste. Whether you need to dispense ketchup, hand soap, shampoo or detergent, trust ASEPT for reliable and effective solutions.