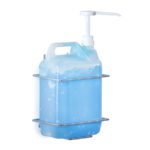 SDP Wall Hanger, Upright
CONVENIENT. STURDY. CLUTTER-FREE.
The Upright Wall Hanger Accessory is your solution for easy access and clutter-free countertops. Crafted from solid stainless steel, it provides a secure and accessible location for your chemical container, up to 5.3-qt US (5L) in capacity. By mounting your container on the wall, you ensure it's always within reach, and the upright position enhances efficiency while maintaining a tidy workspace.
Maximize your chemical dispensing efficiency, keep your workspace organized and enjoy quick access to your container with the Upright Wall Hanger Accessory.
Features & Benefits
Specifications
Get in touch with ASEPT
Sales Contacts
Our team is here to help! Get in touch with our sales contacts, tailored to your
specific region, for expert support and guidance. Contact Us.
John Rayburn
Director of Business Development
john.rayburn (a) asept.com
Lotta Strömberg
lotta.stromberg (a) asept.com