Efficiency and consistency are critical in the fast-paced world of foodservice, especially in quick-service restaurant (QSR) kitchens. When every second counts to make the magic happen and customer satisfaction is at stake, having the right equipment can make all the difference in getting the order out.
Fast, Smooth and Clean Preparation with ASEPT Portion Pump
In this fast-paced setting, everything needs to happen at once. That's why it's crucial to have equipment that supports a smooth and efficient operation. You need tools that are easy to handle, easy to clean and ensure the right amount of condiment is on every ordered meal.
Designed with an ergonomic grip and patented drip-free technology, the ASEPT Portion Pump is the ultimate solution for consistent condiment application. It provides precise, measured portions from a squeeze bottle, elevating the consistency of your servings and increasing your speed of service.
Consistent Portioning for Enhanced Customer Satisfaction
The Portion Pump helps you meet customers' expectations and offers the simplicity appreciated by your prep team. Its exacting portion control prevents over-portioning, making it easy to serve the right amount of condiment every time, leaving no room for inconsistency.
This consistency is great for everyone involved. Restaurant owners get more portions out of the same size of condiment packaging, optimizing resources. Customers enjoy the same taste experience, regardless of who prepares their meal. And let's not forget about the environment – consistent portions mean less product waste and a higher product yield.
Minimize Waste and Maximize Product Yield
Reducing waste is not only economically beneficial but also environmentally responsible. Pairing seamlessly with your existing FIFO Bottles™, the ASEPT Portion Pump allows you to consistently dispense just the right amount of condiment with adjustable portion sizes. Say goodbye to inconsistent servings – serving sauces and condiments with accurate portion control has never been easier.
Effortless Dispensing and Easy Cleaning
In the fast-paced world of foodservice, every second matters. That's why the ASEPT Portion Pump is designed with an ergonomic hand-held grip. Its user-friendly design ensures that it can be easily handled by your staff, enabling them to work efficiently and deliver orders promptly.
Messy dispensing and complicated cleaning routines can slow down your operation. The ASEPT Portion Pump's patented design ensures drip-free operation and storage, keeping your prep area clean and sanitary. Additionally, the pump is dishwasher safe and easy to disassemble, making regular cleaning a breeze.
Discover the Features and Benefits with ASEPT Portion Pump
Explore how the comfortable grip, adjustable portion sizes, compatibility with FIFO Bottles and no-drip design can revolutionize your condiment service. See our Handheld Portion Pump page. If you're ready to take the next step and enhance your condiment application process, contact our sales representatives. They are happy to answer any questions and guide you through the location-based purchasing process.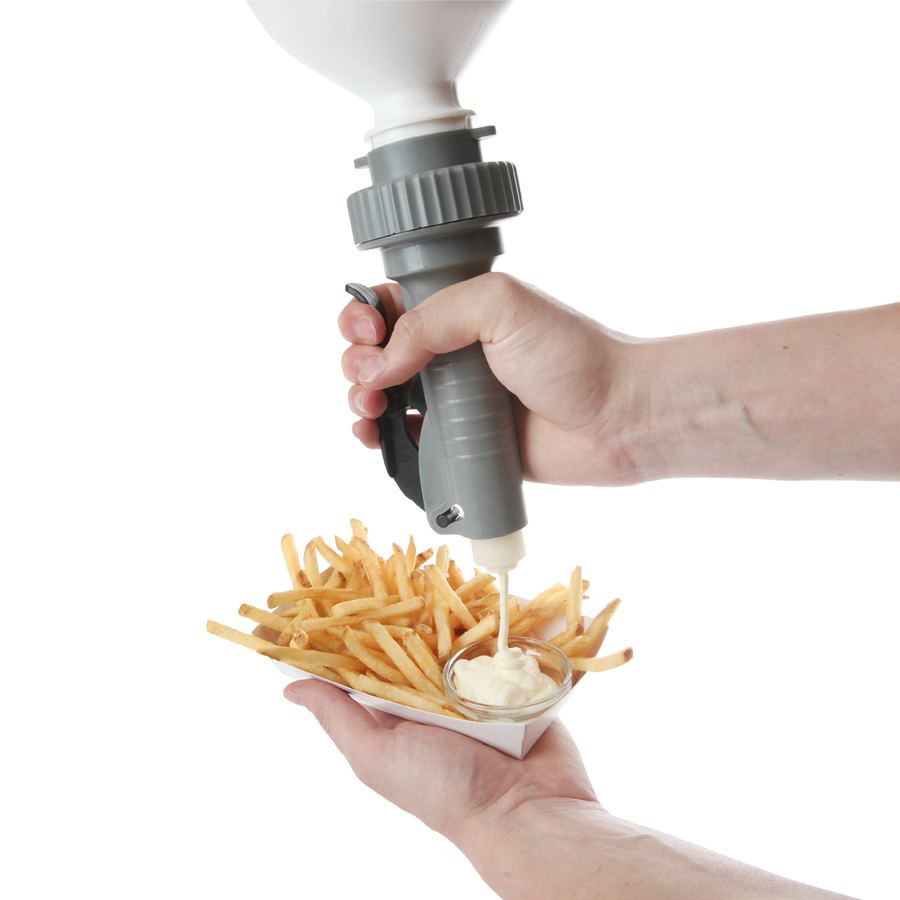 Choose ASEPT for Consistency, Efficiency and Quality Solutions
At ASEPT, we understand that every restaurant is unique. With features like high product yield, consistent portion control, no-mess dispensing and excellent safety and sanitation, our dispensers improve your speed-of-service and provide a better guest experience while reducing waste. Whether you need a standard dispenser or a fully customized solution, we have you covered. Our goal is to help you find the perfect fit for your specific needs.