Custom Pump Solutions – Begin with You
It's clear, "one-size-fits-all" doesn't cut it – even in the dispensing world. Your product, its packaging and your unique brand are anything but ordinary. And when you need an extraordinary solution, we're happy to provide custom pumps tailor-made for your specific needs.
We believe the best solutions come from a deep understanding of your unique requirements. Whether it's the thickness of your product, its packaging or incorporating the necessary features for efficient, safe and hygienic dispensing. We're here to transform your vision into reality.
And that means going beyond functionality. We consider your brand identity too. Custom pumps and dispensers are uniquely tailored to promote your brand, so every interaction your customers have with your product is an extension of your brand.
Industry Experience – Serving Diverse Industries & Applications
Our success stories aren't confined to just one industry or application, though our core focus is liquid dispensing solutions. Over the years, we've served a diverse range of sectors, from foodservice and healthcare to industrial applications and beyond. This allows us to bring diverse insights and knowledge to every custom pump project.
Why Choose Custom Pumps from ASEPT?
Sustainability
Our dispensing solutions are designed to minimize environmental impact through recycled plastics wherever possible.
Durability
Designs meant for a longer service life. Our dedication to quality is reflected in our certifications and listings, including FSSC and NSF.
Portion Control
Achieve product consistency by preventing over- or under-delivery, ensuring every serving is just right.
Waste Reduction
Our pumps significantly reduce the use of single-use plastic packaging materials, minimizing food waste and promoting a more sustainable approach.
Extended Shelf-Life
Pouched products enjoy a prolonged secondary shelf-life, reducing waste and enhancing product quality.
Cost Efficiency
Our custom dispenser systems are cost-efficient, helping you optimize your operational expenses while maintaining product quality.
Customer Success Story – Visionary Sauce Dispensers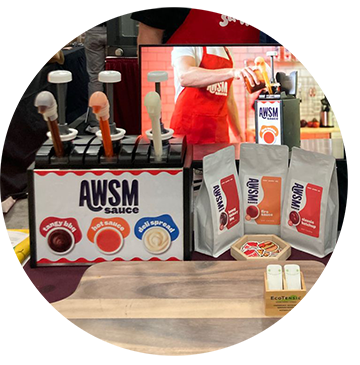 Allow us to introduce AWSM Sauce, a visionary sauce brand founded by two Dads on a grand mission: "to eliminate single-use plastics from kitchens and revolutionize the world of sauces and condiments." Their dispensing journey began after the creation of several exceptionally tasty sauces. They needed a serving method or pumps to bring their bold vision to life.
ASEPT enthusiastically joined forces, united by a shared commitment to sustainability. Together, we explored deeply into comprehending their product, from its distinctive dry-to-liquid format to the requirements for safe and efficient serving. Beyond functionality, we also crafted spaces to creatively convey their unique identity in every interaction.
Pictured: AWSM Sauce product demo at the 2023 National Association of College & University Food Services Show (NACUFS)!
Your Journey Starts Here
The AWSM Sauce project is just one example of how we've leveraged our foodservice industry experience to create outstanding custom pump solutions. We have a recent healthcare success story too.

Your journey toward an ideal dispensing solution begins with a conversation. Contact us today and transform your vision into reality.